Thanks very much for your help, and if we don't speak again thank you again for producing our excellent yearbooks. I will recommend you to next year's year team.
Can I please pass on my grateful thanks to your brilliant team.  I have been a bit behind with things this year due to one thing or another and your ladies have really gone above and beyond to get our yearbooks and hoody/sweatshirt orders completed in time to be delivered.
Your ladies could not have been kinder or more thoughtful in supporting us through a very difficult period while we came to terms with that loss. I very much appreciate everything they have done.
Thank you for all your help/support. As this was the first year using Hardys and I feel it has been a positive experience I will be passing the details onto current Head of Year 10 so that she can use the services offered.
Thanks for being so quick with the year book it's looks amazing! We would love to use your services again for 2021 so when you're ready please send me all of the info.
This year was supposed to be strictly a one off, but my daughter is in the year below so I suspect the yearbook will be back by popular demand haha! It will be me again.
First and foremost I would like to say thank you for publishing our yearbook. I have received the final copy and they look fantastic.
I have dealt with Hardy's for the past 7 years and cannot fault them. Always quick to respond and help out. Cheapest yearbooks around and easy for students to produce the book.
I just wanted to say thank you for delivering our yearbooks promptly. I have thoroughly enjoyed looking through my copy and I know our students will cherish theirs. A truly professional job!
Why choose Hardy's Primary School Yearbooks?
Great value. Starting at just £9.50 per book, our yearbooks are outstanding value.
No hidden extras. Our prices are fully inclusive, so there are no nasty surprises.
Free digital e-proofs. Making the proofing process quick and efficient.
Unrivalled support. Contact us online, over the phone or by email whenever you need to.
Amazing quality. We combine state of the art printing with traditional binding methods.
Low minimum orders. Secure your order with as little 25 yearbooks.
Flexible design process. Tinker as much or as little as you like; we'll be on hand to take over.
Easy to make. Build your yearbook using Microsoft Publisher, Powerpoint or Adobe InDesign.
Professional templates. Choose from over 500 brilliant professionally designed yearbook templates.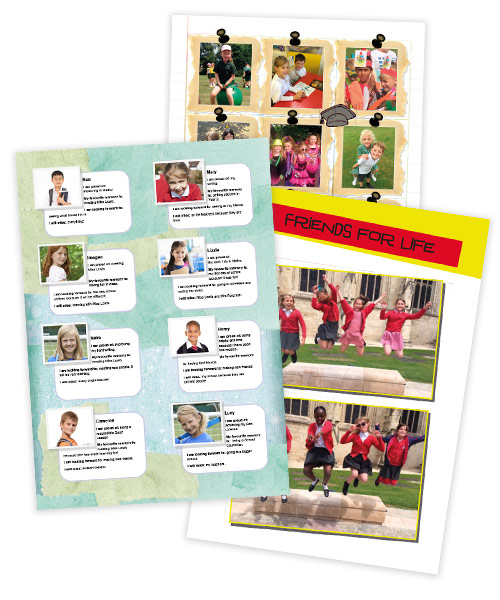 "Start planning your 2024 Primary School Yearbooks today"
Did you know?
We also produce awesome Primary School leavers hoodies. Leavers hoodies are becoming increasingly popular as a great way to show off which school and year group your kids represented. We offer great combo deals for anyone combining yearbooks with a hoodie order, plus you'll pay no VAT as they are classed as children's clothing! Our hoodies come in a range of sizes to suit all Primary School year groups and adults as well. Find out more.
How much does it cost?
From £9.50 per book for a 24 page softbound book. This includes VAT, delivery, proofing, free customised prom tickets and use of Hardy's yearbook resources.
Where do we begin?
Just fill in the enquiry form and we will send you all the information that you need, and when you're ready to make a booking, just complete the booking form and we will organise the rest for you.
Can I see a sample Primary School Yearbook?
Yes of course, we will send you a sample book.
Get in touch
with us today to arrange your free sample.
How long does the process take?
It depends on how quickly you manage to put the book together, but from the time that you sign the book off ready for printing, we can have them delivered to you in as little as 2 weeks.