Primary School Yearbooks

Create a Book of Memories
---

Primary School Yearbooks and leavers books
Primary School Yearbooks and leavers books are the perfect way for your pupils to create a memento they'll treasure forever. Our beautifully bound books are made to last, providing life-long memories of such precious times.
Whether you are a teacher, a parent or even a pupil, we've come up with a unique yearbook solution that makes the planning and design process quick and easy. Our professionally designed yearbook page templates can be downloaded and used in Microsoft Publisher, Powerpoint or Adobe InDesign, making them simple to edit and accessible to everyone.
If you're looking to give your pupils the perfect send off, our Year 6 leavers books not only look great but also provide a great opportunity for the whole year group to work together on something fun and exciting. Our page templates are packed with great ideas, fun designs and over 500 layout options, meaning every yearbook we publish is unique.
Professional designs, simple solutions
We've created a library of professionally designed yearbook page templates that make building a brilliant Primary School Yearbook child's play. The You Design service uses software that you and your pupils are already familiar with, keeping the process simple and putting you and your pupils in control.
Just add your content, images and text, make any custom tweaks and send your completed layouts back to us, via our cloud service. Online proofing is included in the Hardy's service so once you've done your bit, you can put your feet up, happy in the knowledge that our experienced eyes are giving your designs the once over.
When everyone's happy with the final product, all that's left is for us to print and bind your yearbooks before sending them on their way and letting the real magic begin.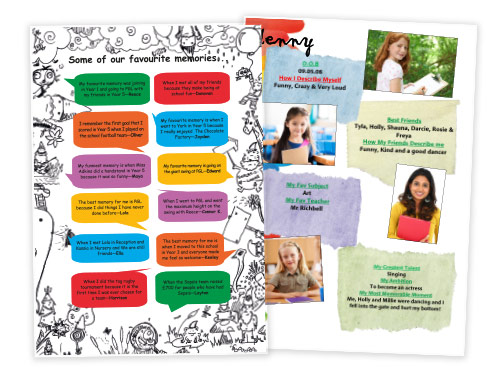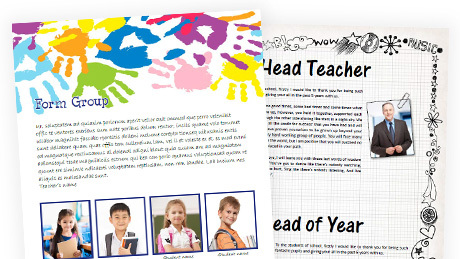 Primary School Yearbooks from just £9!
Our amazing Primary School Yearbooks and leavers books start at just £9 for a 24 page, softbound book with a full colour laminated front cover (minimum order of 25 yearbooks applies).
For further details or to start designing your school yearbooks, please complete this enquiry form and request to receive our e-pack and free sample yearbook.
Free customised prom tickets with every order!
Last but not least, if you're planning an end of year prom for your primary school leavers, we'll throw in free customised prom tickets with every order.
Why choose Hardy's Primary School Yearbooks?
Great value. Starting at just £9 per book, our yearbooks are outstanding value.
No hidden extras. Our prices are fully inclusive, so there are no nasty surprises.
Free digital e-proofs. Making the proofing process quick and efficient.
Unrivalled support. Contact us online, over the phone or by email whenever you need to.
Amazing quality. We combine state of the art printing with traditional binding methods.
Low minimum orders. Secure your order with as little 25 yearbooks.
Flexible design process. Tinker as much or as little as you like; we'll be on hand to take over.
Easy to make. Build your yearbook using Microsoft Publisher, Powerpoint or Adobe InDesign.
Professional templates. Choose from over 500 brilliant professionally designed yearbook templates.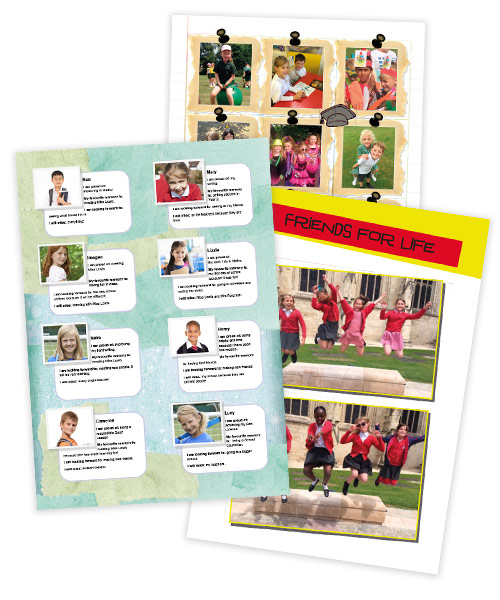 "Start planning your 2019 Primary School Yearbooks today"
Did you know?
We also produce awesome Primary School leavers hoodies. Leavers hoodies are becoming increasingly popular as a great way to show off which school and year group your kids represented. We offer great combo deals for anyone combining yearbooks with a hoodie order, plus you'll pay no VAT as they are classed as children's clothing! Our hoodies come in a range of sizes to suit all Primary School year groups and adults as well. Find out more.
How much does it cost?
From £9 per book for a 24 page softbound book. This includes VAT, delivery, proofing, free customised prom tickets and use of Hardy's yearbook resources.
Where do we begin?
Just fill in the enquiry form and we will send you all the information that you need, and when you're ready to make a booking, just complete the booking form and we will organise the rest for you.
Can I see a sample Primary School Yearbook?
Yes of course, we will send you a sample book.
How long does the process take?
It depends on how quickly you manage to put the book together, but from the time that you sign the book off ready for printing, we can have them delivered to you in as little as 2 weeks.